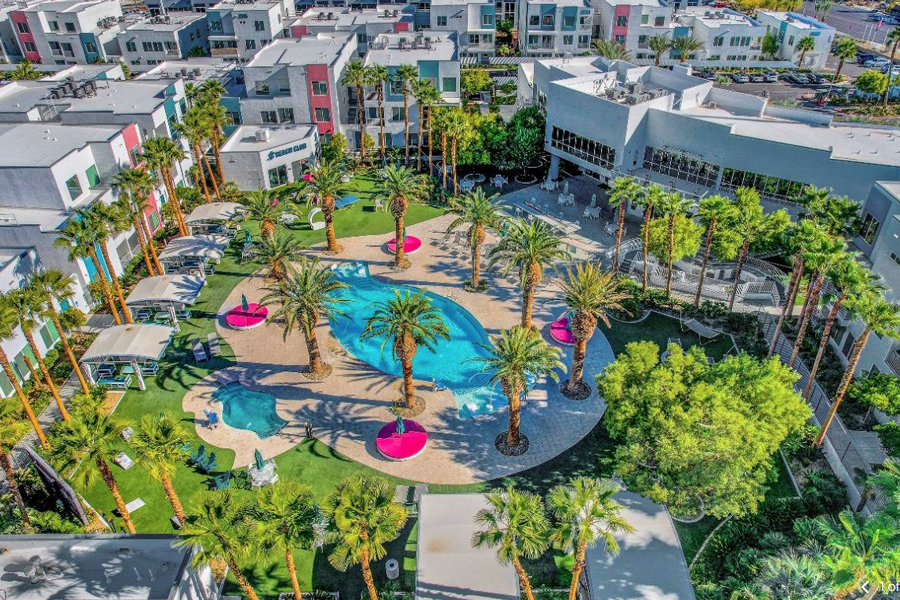 220-Unit Luxury Las Vegas "South Beach" Apartment Complex Sells for $97.5 Million; Impressive Return On Initial Investment
LAS VEGAS, NV – Just over three years after originally purchasing it, the owners of a prominent luxury Las Vegas apartment complex have turned around and sold the property off for a very impressive return on their initial investment.
It was announced this week by broker Cushman & Wakefield that the 220-unit South Beach was bought from Griffin Capital Company by San Diego real estate firm Logan Capital Advisors for $97.5 million. Griffin had originally purchased the complex in 2018 for $62 million, with this week's sale representing a tidy profit of $30.5 million.
The $97.5 million sale price comes to approximately $443,182 per unit, which is twice what the average was on the market during 2021; when Griffin purchased the property in 2018, the per-unit price also was double that of the market average at the time at $281,818.
Upon the announcement of the purchase, seller Logan Capital issued a statement, touting South Beach's "unmatched amenity package" and "excellent location" while cementing the high-end apartment complex as a leader in Las Vegas amongst "discerning lifestyle renters."
Griffin also put out a statement, noting that originally they had intended to hold onto South Beach for the foreseeable future, but the firm was presented with an "opportunity to realize outsized returns" and due to that, they decided to sell "earlier than anticipated, and with a great result."
Located at 8920 West Russell Road, South Beach offers numerous upper-crust amenities for tenants, including poolside cabanas, a huge outdoor TV, an outdoor gym, a sand volleyball court, a sports field, a Zen garden, fitness studios, a massage and treatment room, steam and sauna rooms, and a poker room.
Apartment sales in Las Vegas have been heating up recently amid the waning days of the COVID-19, whereas they had displayed a distinct drop in changing hands while the pandemic was at its peak; in 2021, 193 complexes were sold in the region, compared with just 91 in 2020.
Shelter Realty is a Real Estate and Property Management Company specializing in the areas of Henderson, Las Vegas and North Las Vegas, NV. Feel free to give us a call at 702.376.7379 so we can answer any questions you may have.