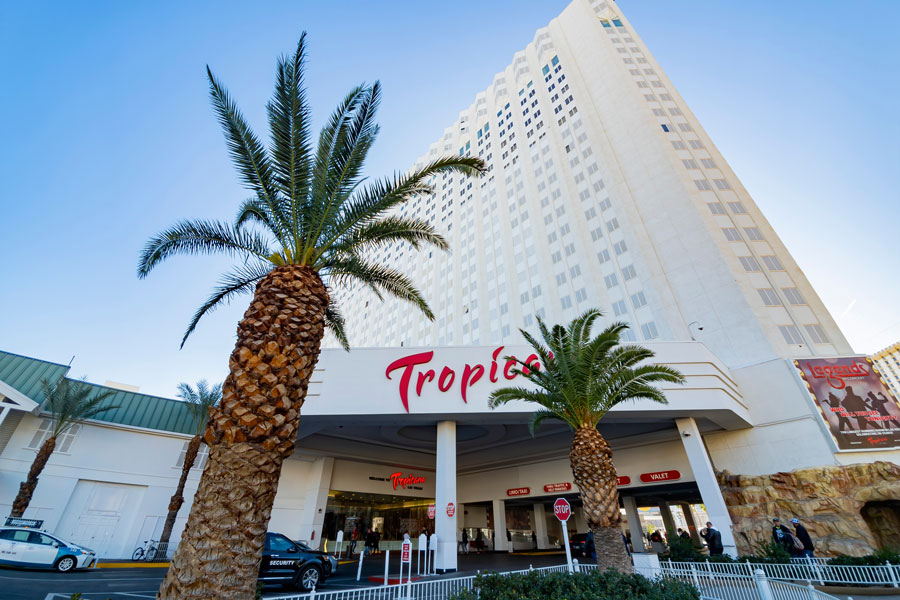 Las Vegas' Tropicana Resort Facing Potential Redevelopment, Demolition After Sale
LAS VEGAS, NV – The Tropicana – a famous hotel-casino from the Rat Pack era – is in the process of being sold this year to casino operator Bally's Corporation, and is reportedly facing an uncertain future that could include either extensive redevelopment or even complete demolition to make way for an entirely new establishment.
According to Bally's Chairman Soohyung Kim, they are currently weighing all possibilities for the Tropicana's future, although the corporation will "almost certainly" rename the property under the Bally's brand and will redevelop it in some manner, although literally "knocking it down and starting over" has not been ruled out either in order to "maximize value."
There is already a Bally's resort in Las Vegas; however, Caesars Entertainment announced recently that they would be renaming their Bally's resort on the Strip to the "Horseshoe Las Vegas," thus freeing up the Bally's name to be used for the soon-to-be-former Tropicana instead.
In April 2021, Bally's announced it entered a deal to acquire The Tropicana from Gaming and Leisure Properties in a deal valued at $308 million. Bally's acquisition of Tropicana is expected to close early this year, with Gaming and Leisure Properties retaining ownership of the land underneath the property for an initial 50-year lease.
In April of 1957, the Tropicana opened with 300 rooms, and had ties to organized crime; today, in its current form, the resort features 1,470-rooms, 50,000 square-feet of gaming floor space, and 72,000 square-feet of convention and exhibit space.
Numerous movies and television shows have filmed scenes at the famed Tropicana, including the 1964 Elvis Presley film Viva Las Vegas, the James Bond film Diamonds Are Forever – Sean Connery's 007 is seen checking in, declaring "I hear that the Hotel Tropicana is quite comfortable" – The Godfather and The Godfather Part II, the TV show Charlie's Angels in the 1978 episode "Angels in Vegas," and many more.
Photo: Exterior view of the famous Tropicana on December 28, 2019 in Las Vegas, Nevada. File: Kit Leong, Shutterstock.com, licensed.
Shelter Realty is a Real Estate and Property Management Company specializing in the areas of Henderson, Las Vegas and North Las Vegas, NV. Feel free to give us a call at 702.376.7379 so we can answer any questions you may have.