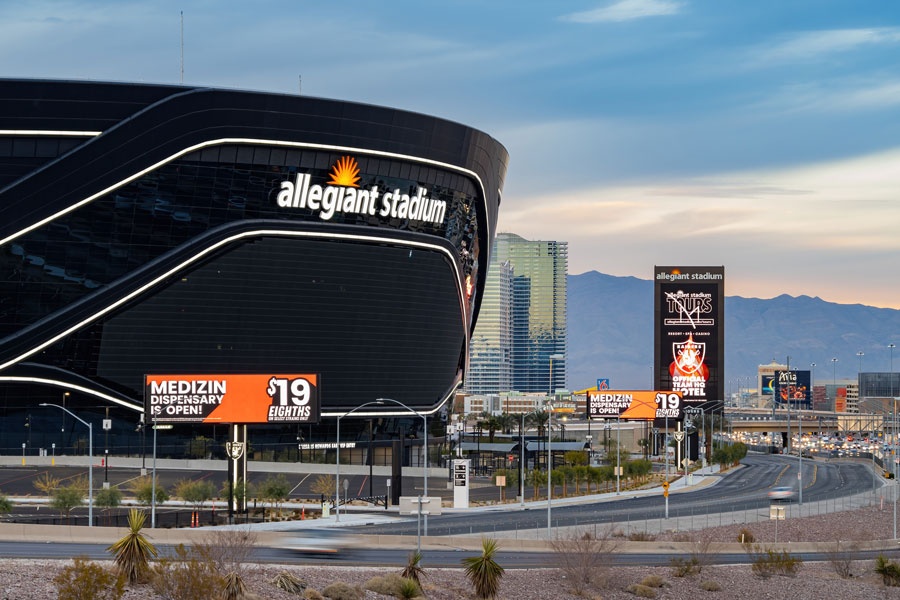 "Unique Opportunity" As Development Expected Near Allegiant Stadium Amid Super Bowl 2024 Announcement
LAS VEGAS, NV – Amid the announcement that Allegiant Stadium – home of the newly-transplanted NFL Las Vegas Raiders football team – would be hosting the Super Bowl in 2024, expectations of business and residential development and growth in the surrounding area to take advantage of the expected influx of visitors to the region has hit an all-time high.
Currently, the area surrounding Allegiant Stadium is made up of mostly commercial buildings, but as of the 2024 Super Bowl announcement, experts are expecting that will change as quickly to take advantage of the incoming tourist-related sporting activity that is expected in the wake of the 2024 NFL Super Bowl.
An agent that just sold a building directly around the corner from Allegiant Stadium, Ross Fabrizio, was recently interviewed by Las Vegas 8 News Now, and noted that the upcoming mainstream sporting activity in Vegas has the ability to transform the area around Allegiant Stadium into a unique money-making opportunity for all involved.
"The Raiders and Allegiant Stadium gave [my buyer] an opportunity for him to move his business elsewhere and take advantage of the situation," Fabrizio said. "I think you will see some transition, that is a really tight timeline. This is a 'make it happen' kind of town if you have a dream in the morning you can make it happen in the evening, that is the Las Vegas way."
According to County Commissioner Michael Naft, the area round Allegiant Stadium had been originally approved to be a more pedestrian-friendly area with restaurants and entertainment venues; however, with the recent announcement of the 2024 Super Bowl coming to Vegas, those plans may be fast-tracked in order to bring them to fruition as soon as possible.
Naft said that he expects more businesses to re-locate to the area round Allegiant Stadium as the 2024 Super Bowl comes closer and closer to kick-off time.
"We continue to work with business owners in the area who want to go through a transition, some of it is going to happen naturally, some of it is going to happen with us encouraging it to happen," he said. "10 years ago that was largely a warehouse district, as more and more events take place like the Super Bowl, the makeup of the surrounding areas is going to change over time."
Shelter Realty is a Real Estate and Property Management Company specializing in the areas of Henderson, Las Vegas and North Las Vegas, NV. Feel free to give us a call at 702.376.7379 so we can answer any questions you may have.