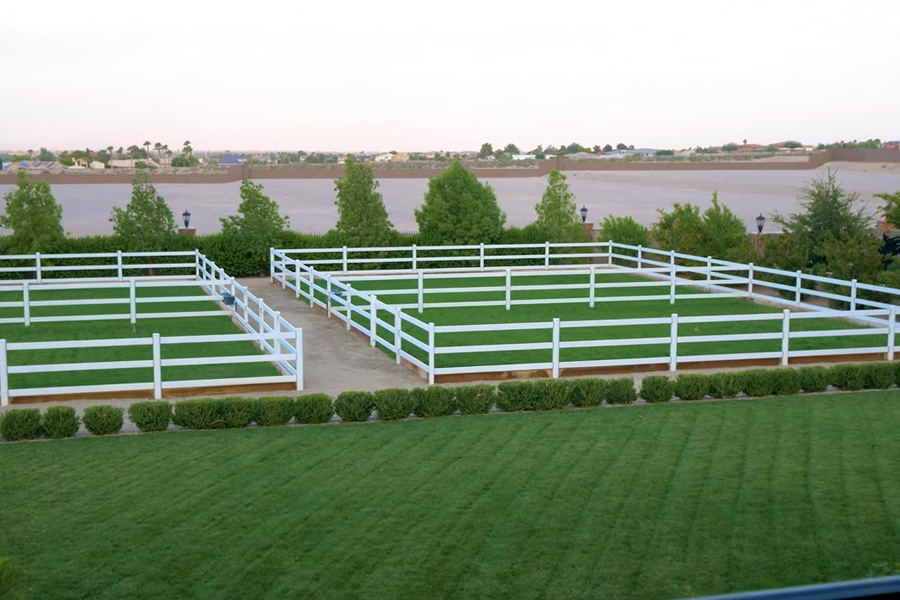 "Horse Owner's Dream Property" in Northwest Las Vegas Goes on Market for Close to $8 Million
LAS VEGAS, NV – In keeping with the ongoing trend of the high-priced luxury Las Vegas real estate, "The House of Roses," a Northwest Las Vegas ranch estate, has been listed on the market for $7.95 million.
The ranch, located at 4225 North Jensen Street and situated on 2.25 acres at the base of Lone Mountain, lives up to its name by featuring lush landscaping that is considered uncommon in Southern Nevada. The property boasts 25 species of roses and numerous varied fruit trees throughout the property, which are able to grow and thrive in the notoriously dry climate by way of a private well-water system.
The ranch's realtor has dubbed The House of Roses as a "horse owner's dream property," with the estate including seven horse stables with automatic waterers, a box stall with an attached 30-foot covered run, a 14,000 square-foot riding arena with shock absorption, a riding ring encircled by steel-board fencing, a 60-foot round training area, and circular driveway for loading and transporting horses and supplies. The estate also has multiple horse corrals and is adjacent to a 2.3 mile trail that is accessed via a remote-controlled gate.
As for the home itself, it comes in at an impressive 8,199 square-feet that includes six bedrooms, eight baths, a four-car garage and a separate guest cottage. It was originally constructed in 2003, and in 2016 was purchased and renovated by Jessica and Josh Pianco; Jessica is the daughter of the late Stan Mallin, original co-owner of Caesar's Palace.
The home also has two staircases accessing the second floor, several balconies overlooking the horse pastures and training areas, a master bedroom with a fireplace and outdoor seating area, in addition to a den and office space. Aesthetics include rustic wood accents, archways, several courtyards, and backyard views of Lone Mountain and Red Rock Canyon's Spring Mountain ranges.