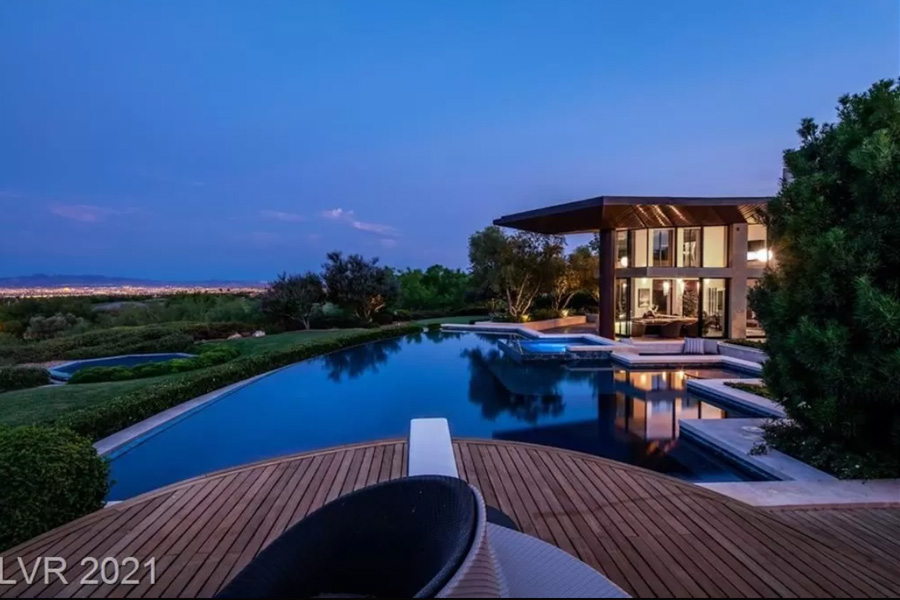 Las Vegas Real Estate Broker Scott Gragson's Mansion Listed for Rent at $50K Per Month
LAS VEGAS, NV – The mansion of Scott Gragson – a Las Vegas-based real estate broker who is currently serving time in prison in connection with a fatal drunk-driving accident – has been listed on the rental market, for the whopping price of $50,000 per month.
The mansion, located at 5 Promontory Ridge Drive in The Ridges – a wealthy master-planned community in Summerlin – is described as a "desert contemporary masterpiece," comes in at 10,621 square-feet in size, is fully furnished, and features six bedrooms.
The residence also features a number of posh amenities for its tenant, including clear views of the famed Las Vegas Strip, a private movie room, a guest house, a gym, and a basketball court.
If security is a concern, the mansion also has a a series of two gated entrances with a guard on-duty.
Gragson, 55, had been arrested on May 30, 2019, after he had been involved in a drunk-driving crash in The Ridges that left Melissa Newton, a 36-year-old mother of three, dead. Gragson pleaded guilty in February 2020 to one count of DUI resulting in death and one count of DUI resulting in substantial bodily harm and was sentenced to eight-to-20 years in prison.
In addition to the prison term, Gragson had also reached a settlement deal to pay restitution to Newton's family in the amount of $21 million; he would pay $12.8 million, and his insurance company would pay the remaining $8.2 million.
Additional settlements were also reached with the surviving passengers of the vehicle – Greg Tassi and Christie Cobbett – although the amounts of those have not been publicly revealed. A third passenger, Christopher Bentley, is set to begin his civil suit against Gragson this November.
Shelter Realty is a Real Estate and Property Management Company specializing in the areas of Henderson, Las Vegas and North Las Vegas, NV. Feel free to give us a call at 702.376.7379 so we can answer any questions you may have.