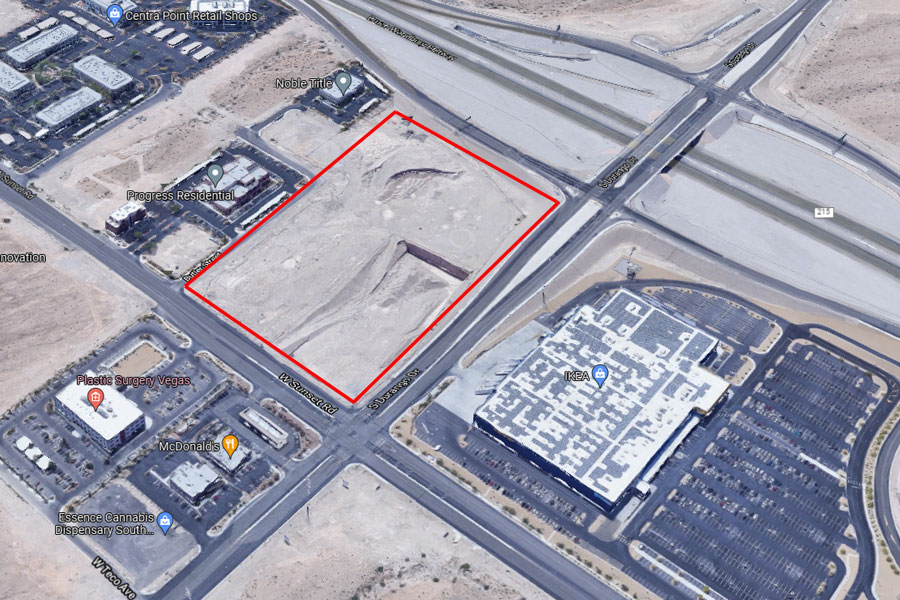 Fitness Company Plans to Transform Empty Pit in Las Vegas to High-End Health Club; Slated To Begin In Spring Of 2022
LAS VEGAS, NV – Right before the COVID-19 pandemic hit and turned everything upside down, health and fitness company Life Time Inc. had purchased a large empty pit in Las Vegas – right next to Ikea – with plans of transforming the holdover from the mid-2000's recession into a high-end health club.
However, the pandemic – with its subsequent lockdowns and other health-related restrictions – effectively put a wrench into the works, but Life Time has recently announced that plans for the health club are still going forward.
A Life Time spokeswoman has confirmed – but also noted that plans could still change – that construction on the oft-delayed project is slated to finally begin in the spring of 2022, with hopes of a late 2023 opening for the health club.
The 15-acre plot, located at the southeast corner of Sunset Road and Durango Drive, would take the form of a 60 foot-tall, three-story "athletic resort destination" coming in at a sizable 125,500 square feet. Amenities for club members would include weightlifting, indoor and outdoor pools, fitness classes, sport courts, spa and salon services, and more, according to documents originally submitted to Clark County in 2020 for Life Time's Southwest Valley Club.
The site of the project was originally planned to have been utilized by a different developer for a high-rise apartment complex in the mid-2000's, but the burst of the housing bubble derailed those plans and the property – located in a rapidly-goring section of Vegas between Summerlin and Henderson – has sat vacant ever since.
Health clubs have been one of the more financially beleaguered industries during the pandemic due to government-mandated lockdown orders issued to curb the spread of COVID-19. Even after gyms were allowed to reopen, mandated mask policies and other health requirements resulted in many club members remaining leery about returning there to work out.
However, a Time Life spokesperson has noted that the company has seen "solid consumer demand for our offerings" and is "very pleased as we've emerged from the past 17 months."
Shelter Realty is a Real Estate and Property Management Company specializing in the areas of Henderson, Las Vegas and North Las Vegas, NV. Feel free to give us a call at 702.376.7379 so we can answer any questions you may have.