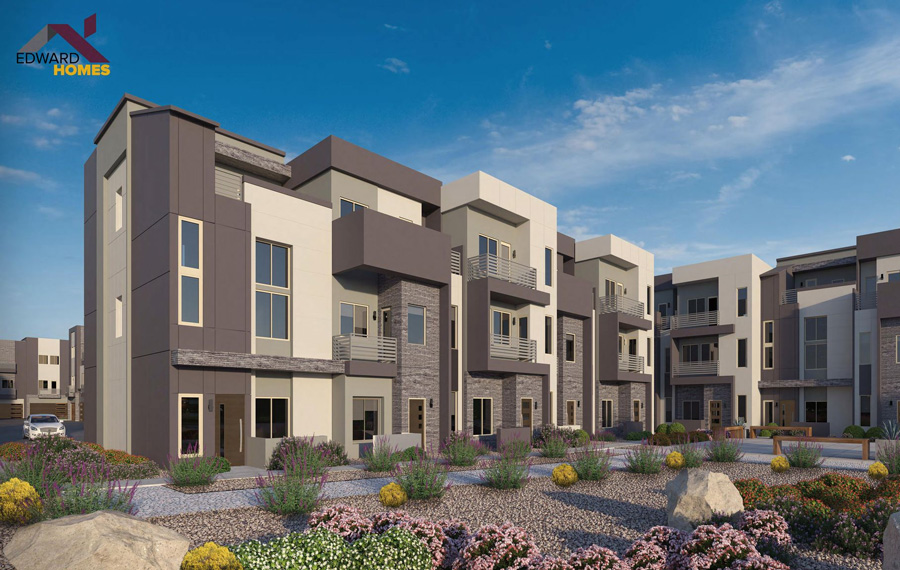 Housing in Demand: Summerlin Townhouse Complex Sold Out Before Construction Even Begins
LAS VEGAS, NV – Thrive, a new townhouse complex in Summerlin, has exemplified the massive demand for housing options in Southern Nevada in a very eye-opening way- by completely selling out of all its units before the project has even broken ground.
Developer Edward Homes notes that Thrive isn't actually slated to begin construction until August 1, which is situated along Charleston Boulevard, less than a mile west of Red Rock Resort. The project is anticipated to be finished by the first quarter of 2023, owner Brock Metzka says, but that still hasn't stopped people from putting their hard-earned money down well in advance of move-in day.
"It was really fast," Metzka said, noting that prior to the recent real estate boom in Las Vegas, he's never completely sold out a planned development before it was even built.
The development was originally slated to be completed in phases, with the initial phase consisting of model homes to show off to prospective buyers. However, given the fact that all of the townhome units sold out in less than 90 days, such an approach was no longer necessary; instead, full-up construction of the entire community is now planned to commence in August.
Thrive, which will consist of 43 homes, sits on 2.6 acres of land in the Las Vegas Valley, sold out so quickly due to the massive demand for housing options in Southern Nevada these days, coupled with cheap loan options and a huge influx of out-of-state buyers who are flocking to the region for its blossoming economy, vibrant job market, and low cost of living when compared to many other parts of the country.
Located at the southwest corner of Charleston Boulevard and Plaza Centre Drive near the 215 Beltway, Thrive's townhouses range in price from $440,000 to $550,000, with the higher-end residences coming in at three-stories. Many of the buyers hail from nearby California, according to Metzka, and most of them are paying cash.
Shelter Realty is a Real Estate and Property Management Company specializing in the areas of Henderson, Las Vegas and North Las Vegas, NV. Feel free to give us a call at 702.376.7379 so we can answer any questions you may have.