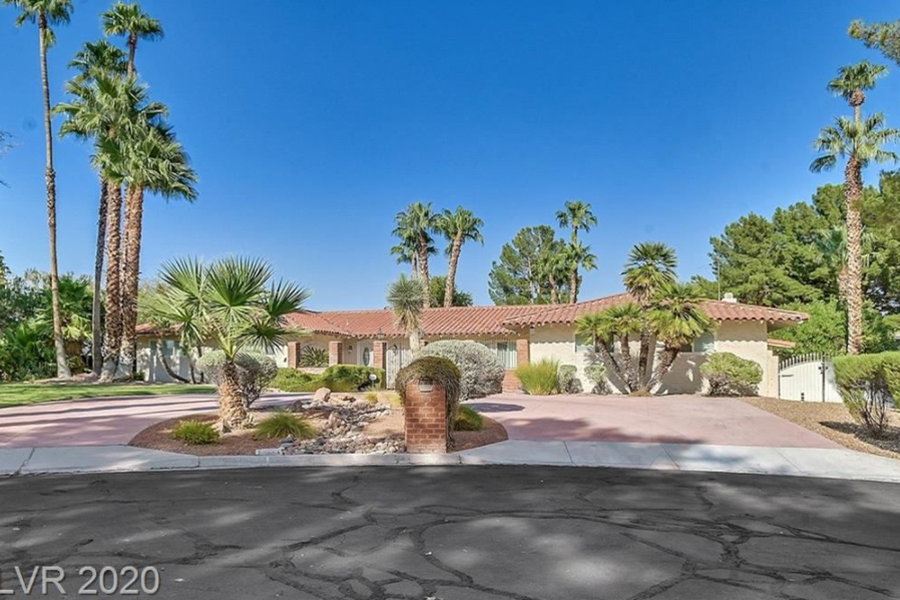 Legendary Comedian Andrew "Dice" Clay Lists Las Vegas Home for Sale at Nearly $1 Million
LAS VEGAS, NV – Andrew "Dice" Clay, the legendary comedian who rose to prominence in the late 1980s with a brash, macho, persona known as "The Diceman" and in 1990 became the first stand-up comedian to sell out Madison Square Garden for two consecutive nights, recently put his Las Vegas home up for sale for just one dollar short of a cool million.
Listing for $999,999 and originally built in 1968, the Nevada Rancho Estates-based "lucky house," which he has owned for the past 19 years, has been used relatively little by the comedian during the COVID-19 pandemic, with Clay spending the majority of his time split between his New York and Los Angeles residences.
The home, located at 121 Stonewood Court on a half-acre plot of land at the end of a cul-de-sac, is situated within the Alta Rancho historic district, which is a guard-gated community. It is a one-story ranch-style house coming in at 4,461 square feet in size and has five bedrooms; three full bathrooms, and an additional two half-bathrooms. It boasts numerous high-end amenities, such as a large backyard with a heated pool and spa, extensive landscaping, and more.
The home has been renovated with new plumbing, floors, carpeting, and granite and reflects a "vintage, nostalgic" design aesthetic reminiscent of the late 1960s and early 1970s, according to Realtor Rob Wilner, the listing agent. Clay himself spoke of the home and the great time he had there entertaining his many celebrity friends and acquaintances.
"It has that Vegas feel," he said. "It has a step-down living room, step-down dining room and step-down bar where we had a blast there all of these years. We had parties all the time with my friends in Vegas with Criss Angel, Tom Green and Wayne Newton. Michael Imperioli from 'The Sopranos' would come over when he was in town. We hung out after my shows late at night. It was a great hang and party place. It has that big, open hangout where the bar is and a giant pool. We had so much fun there."
At age 62, Clay continues to tour and perform stand-up, and has appeared in several films and TV shows, including roles in Woody Allen's "Blue Jasmine" and Bradley Cooper's "A Star Is Born."
Shelter Realty is a Real Estate and Property Management Company specializing in the areas of Henderson, Las Vegas and North Las Vegas, NV. Feel free to give us a call at 702.376.7379 so we can answer any questions you may have.