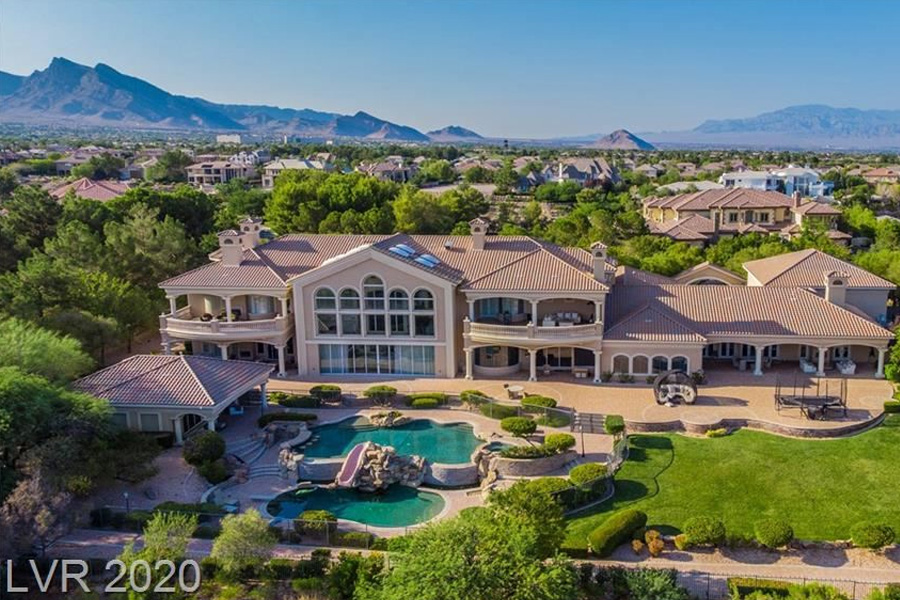 Basketball Pro DeMarcus Cousins Lists Luxury Las Vegas Mansion for $8 Million
LAS VEGAS, NV – According to recent reports, NBA star DeMarcus Cousins has listed his lavish 20,000 square-foot Las Vegas mansion, located several miles west of the famed Las Vegas Strip, for a whopping $8 million.
Cousins, who is currently on the injured list this NBA season with a torn ACL – a serious knee injury that typically requires surgery and an extended recovery time – had previously purchased the residence in 2017 for $6.5 million.
The mansion, situated upon approximately two acres and offering breathtaking views of the surrounding mountains, is loaded with amenities, including a circular driveway with a covered entrance – known as a porte-cochere driveway – as well as an indoor basketball court, a movie theater, a billiards room, a room for listening to music, and an extensive wet bar.
In addition, the two-floor estate features an astonishing 10 bedrooms and 12 bathrooms, serviced by an elevator in case residents or guests don't care to utilize the stairs.
The backyard boasts of a large landscaped lawn with a resort-style swimming pool that includes a slide that connects with a second pool; all of this has a deck overlooking it from the home's second floor.
Guests can even take advantage of a dedicated cottage situated in the backyard that has its own kitchen, reports say.
Nicknamed "Boogie", Cousins was selected in the 2010 NBA draft by the Sacramento Kings. In his first season with the Kings, Cousins was named to the NBA All-Rookie First Team, and from 2015 to 2018, he was named an NBA All-Star. He is also a two-time gold medal winner as a member of the United States national team, winning his first in 2014 at the FIBA Basketball World Cup and his second in 2016 at the Rio Olympics.
Cousins was most recently signed by the Los Angeles Lakers, although he was released from his contract while sidelined with his current knee injury without ever having played a game for the team in the current season.
Shelter Realty is a Real Estate and Property Management Company specializing in the areas of Henderson, Las Vegas and North Las Vegas, NV. Feel free to give us a call at 702.376.7379 so we can answer any questions you may have.