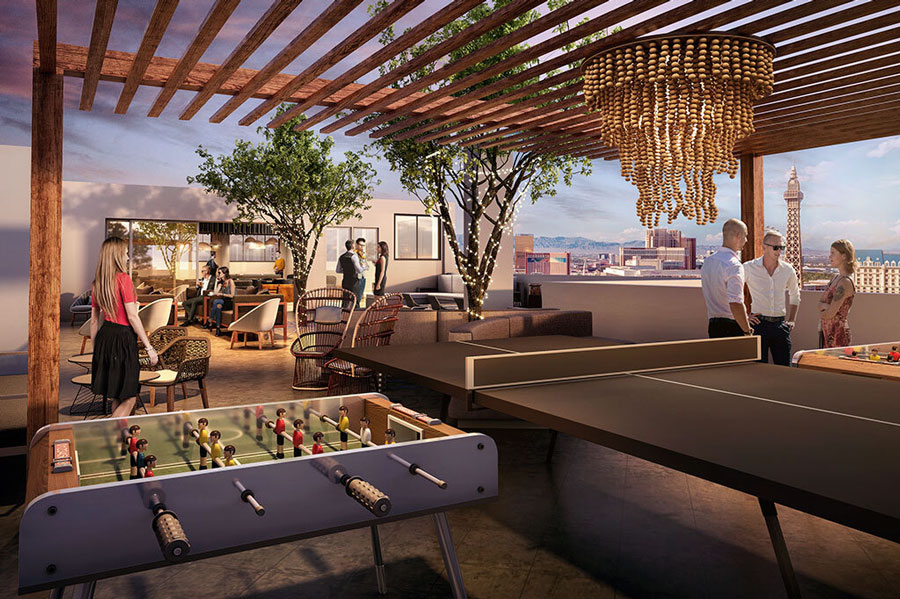 Upscale Rental Complex in Works at Hughes Center; Developer Plans Fall 2020 Opening
LAS VEGAS, NV – The Calida Group – one of the largest developers in Southern Nevada – is planning to open a new apartment complex in the Hughes Center office park in fall of 2020, one that promises a plethora of upscale amenities for tenants, according to reports. Dubbed the Elysian at Hughes Center, the complex – which will begin pre-leasing later this month – is a 368-unit facility with apartments that range in size from 619 square feet to 2,477 square feet. Rent varies from $1,285 to $4,400 per month, according to Calida Group reps.
The complex takes the form of two five-story buildings, each constructed around a six-level parking garage.
Elysian at Hughes Center features a slew of high-class perks for tenants, ranging from a 5,065 square-foot indoor and outdoor "sky lounge" providing panoramic views of the Las Vegas Strip, a clubhouse that contains exercise facilities, tanning rooms, a golf simulator, and a wine-tasking lounge, as well as landscaped resort-style pool, spa, and recreation decks.
The apartment complex is located on a 6-acre site one mile east of the Las Vegas Strip, at the northern edge of the 68-acre Hughes Center. Calida purchased the property for $15.9 million in 2017 from The Blackstone Group, which also serves as the Hughes Center landlord. Ground was broken on construction for Elysian at Hughes Center on January of 2019.
Calida owner Eric Cohen has expressed great excitement about the Elysian project, noting that its home at Hughes Center – an office park with thousands of workers and situated within walking distance of dozens of restaurants – makes it an "amazing location" and a great alternative to the high-rises that are on the nearby Strip.
The projected cost for the project is over $100 million, reports say.
Shelter Realty is a Real Estate and Property Management Company specializing in the areas of Henderson, Las Vegas and North Las Vegas, NV. Feel free to give us a call at 702.376.7379 so we can answer any questions you may have.