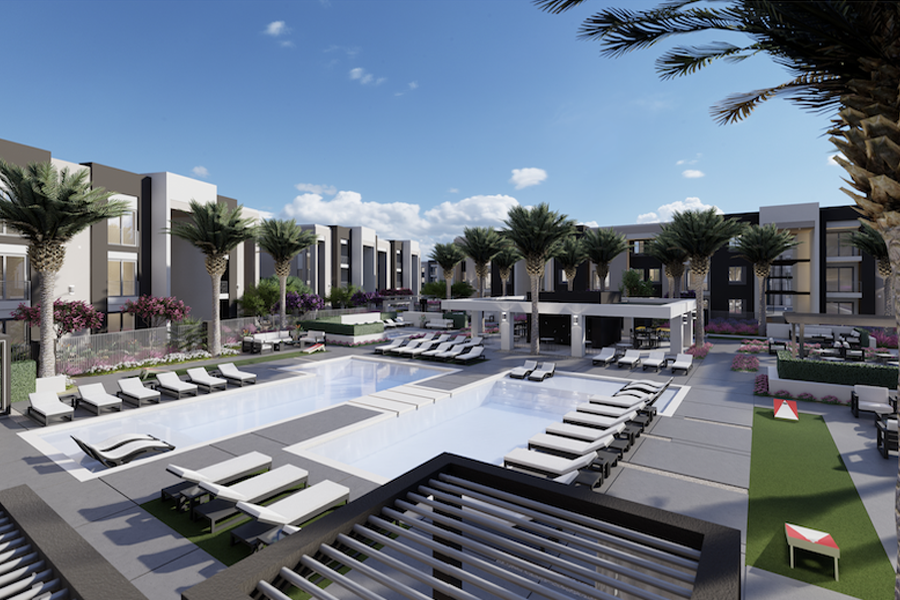 Developer Announces Plans for New Apartment Complex in Henderson
LAS VEGAS, NV – Plans for a new apartment complex in Henderson were recently announced by a Las Vegas-based developer to be constructed on a 19-acre plot of land at the southeast corner of Galleria Drive and Boulder Highway, according to reports.
Tru Development Company noted that the complex, dubbed The Apex at Galleria (stylized as "theAPEX @galleria"), will be a 336-unit apartment complex with and 3.8 acres of retail development available for sale, ground lease, or build to suit as well.
Tru is teaming up with MultiGreen Properties to bring the project to life, according to Tim Deters, President and CEO of TRU Development.
"TRU Development Company is excited to be partnering with MultiGreen Properties on our first project collaboration in southern Nevada," he said. "We are honored to have the opportunity to expand the multifamily offerings in the Las Vegas Valley and create a community centered around technology, sustainability, and wellness. We look forward to bringing our vision to fruition and welcoming residents in 2021."
The apartments at The Apex at Galleria will be available for lease in March of 2021, and heralds what the developer is calling a series of "Apex" branded communities to be built throughout the state of Nevada, according to Randy Norton, Founder and Chairman of the Board at MultiGreen.
"We are excited to be working with TRU in the State of Nevada as we continue to grow and design theAPEX brand," he said. "Our goal is to build thousands of newly constructed APEX- branded units together, all of which will be attainable, sustainable, and tech-enabled residences."
Tru most recently is responsible for the construction of the Kaktus Life rental project off Cactus Avenue and Interstate 15, a 4-story complex. It also has plans for a southwest valley apartment building in the works, adjacent to the Meadows mall. Ground on Apex at Galleria is expected to be broken at some point in the fourth quarter of 2020.
Editors note: The photo used in this story, a rendering of the new apartment complex in Henderson, is credited to TRU Development, Nevada Business Magazine, Nevada Business Journal and Press Release Wire.
Shelter Realty is a Real Estate and Property Management Company specializing in the areas of Henderson, Las Vegas and North Las Vegas, NV. Feel free to give us a call at 702.376.7379 so we can answer any questions you may have.