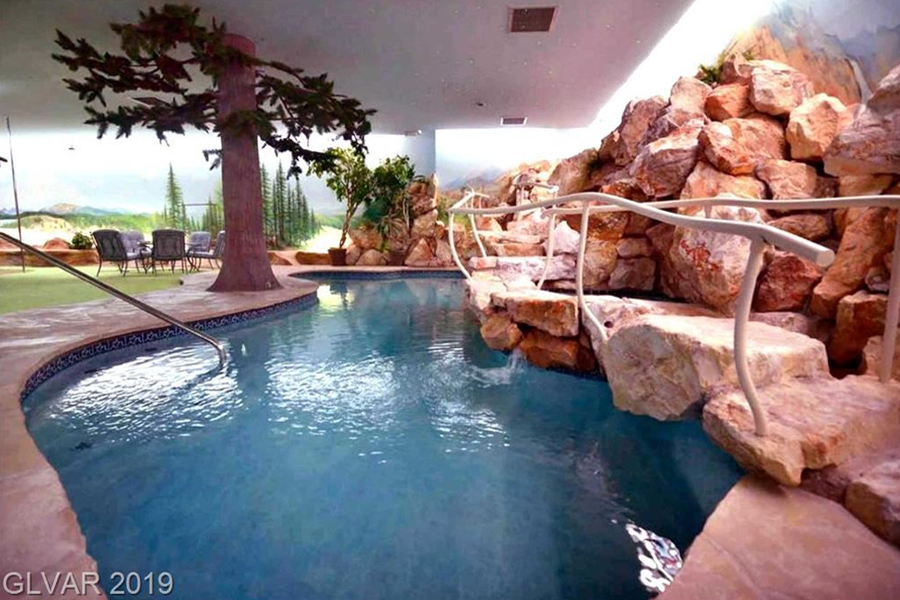 Infamous "Underground House" of Las Vegas Still on Market for $18 Million
LAS VEGAS, NV – The infamous "Underground House" of Las Vegas, a "doomsday bunker" built in 1978 by Avon cosmetics executive and subterranean living enthusiast Jerry Henderson, made headlines last year when it was put on the market. The one-of-a-kind dwelling, located 26 feet under the soil of Southern Nevada, is still on the market for a whopping $18 million, according to recent reports.
Originally costing $10 million to construct, the 5,000-square-foot underground house – situated within a 15,000-square-foot steel-reinforced concrete bunker – is an elegant construct that features numerous amenities, including a pool, terraces, and a waterfall. The look and feel of the home itself remains to this day distinctly influenced by the design aesthetic of the era it was made in- the 1970's. There is also a generator and a 1,000-gallon water tank.
Everything isn't all below the ground, however; included in the $18 million asking price is a 2,300 square-foot, two-bedroom house located above-ground that serves as a gateway to entering the underground house. Also included are all of the property's existing furnishings and one year of caretaking.
The house's current owners – who have remained un-named, instead selling the property via Stephan LaForge of Berkshire Hathaway – note that the novelty of the house's unique design, combined with the difficulty of replicating it elsewhere, make the $18 million price tag completely justifiable.
"The coronavirus might draw out the eccentric billionaire buyer who wants to hide out the situation in a bunker in Las Vegas," LaForge said. "Just to dig the hole today would cost $1.5 million."
Previously, the property sold in 1990 for $1.3 million after Henderson passed away, and again in 2005 for $2 million. The current owners whom are unknown bought it in 2014 for $1,150,000, and have had it on the market for over 500 days. The underground house has two bedrooms and three baths, a vintage 1970's-style kitchen, a large living room with beamed ceilings, a stone fireplace and a theater. Natural lighting patterns are automatically maintained to simulate the passage of daytime into night, and a faux "backyard" is accessible via sliding glass doors and features artificial grass, trees, swimming pool, a fountain, BBQ, and a small cottage.
Shelter Realty is a Real Estate and Property Management Company specializing in the areas of Henderson, Las Vegas and North Las Vegas, NV. Feel free to give us a call at 702.376.7379 so we can answer any questions you may have.