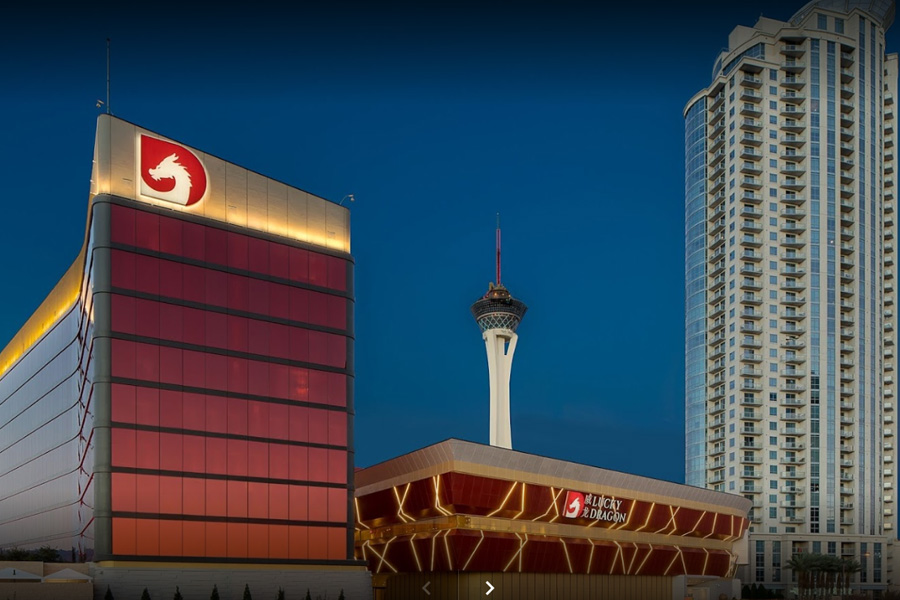 Former Lucky Dragon Hotel Re-Branded and Re-Opened as "Ahern Hotel," Plans Extensive Renovation
LAS VEGAS, NV – According to reports, the former Lucky Dragon has been given a new lease on life, as new ownership has re-branded and re-opened the facility with plans to give the hotel and casino a huge make-over.
The newly christened Ahern Hotel – named after owner and developer Don Ahern – will eschew the Lucky Dragon's previous Chinese-themed design aesthetic – most of the decorations, including statues and a dragon chandelier, have been removed from the premises and are currently in storage awaiting sale – in favor of a more conventional look and feel, although the building still features its previous red exterior, but with all-new signs reflecting the name change.
Originally opening in 2008 with 203 rooms and a 27,500 square-foot casino – considered small compared to their local competitors – the former Lucky Dragon was inspired by Asian concepts in an effort to appeal to Asian customers, who were expected to be the resort's primary customer base.
However, the establishment experienced low customer turnout over the years that it was open and as a result, the Lucky Dragon permanently closed for business on October 2, 2018. It was eventually sold for $36 million in April 2019 to Don Ahern, and reopened as the Ahern Hotel and Convention Center in late 2019.
Currently, the casino is not being re-opened; instead, Ahern noted that he intends to transform the casino into conference and convention space, with work expected to begin in March 2020; currently, the new facility is slated to have a separate name, although that moniker has not yet been publicly revealed.
Ahern estimated that he will be spending less than $10 million on the changes to the former casino space – including new eateries such as an Italian and a sushi restaurant – and hopes the entire resort would be ready in time for a grand opening on July 4, 2020.
Shelter Realty is a Real Estate and Property Management Company specializing in the areas of Henderson, Las Vegas and North Las Vegas, NV. Feel free to give us a call at 702.376.7379 so we can answer any questions you may have.