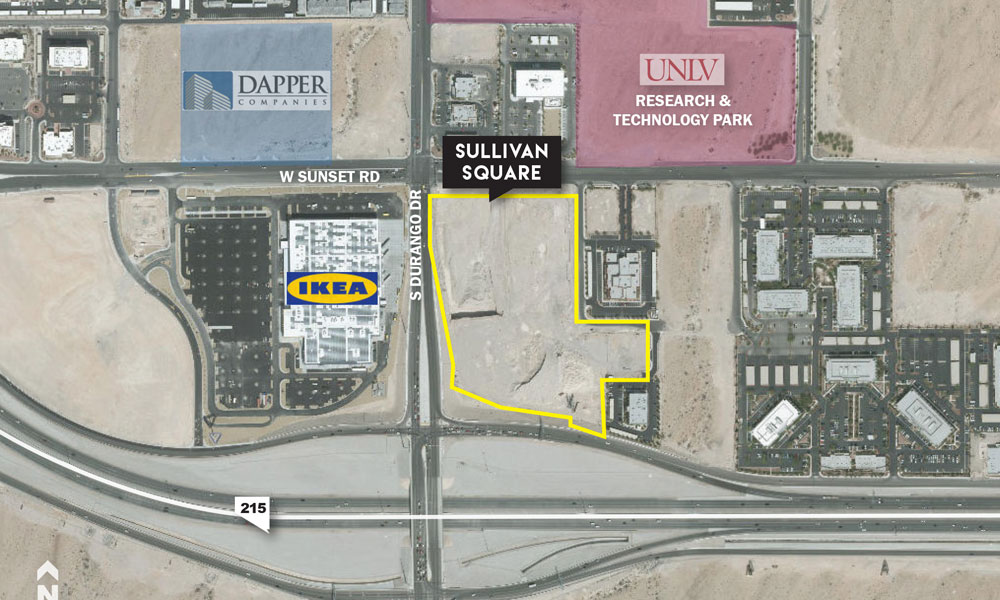 Gym, Apartments, Offices to Be Built at Former Las Vegas Sullivan Square Site
LAS VEGAS, NV – Minnesota-based Life Time, which runs a chain of luxury health and gym facilities, acquired Las Vegas' Sullivan Square site in November 2019; according to reports there are potential plans in the works to transform the abandoned property into apartments, offices, and a gym.
Sullivan Square was originally purchased in the mid-2000's with plans to transform it into a site for a Manhattan-style series of skyscrapers, but due to numerous factors – up to and including the recession – the plans never materialized, and the plot of land has sat in a state of disuse ever since, giving mute testament to the real estate crash that held Las Vegas in its grip for nearly a decade before only recently recovering in spectacular fashion.
Life Time has not officially announced plans for the Sullivan Square property, located across from Ikea at the southeast corner of Durango Drive and Sunset Road, however, reports indicate that Life Time plans to install one of their trademark luxury health and gym facilities at the location, in addition to a possible high-end apartment complex and office space for businesses. Retail options were not mentioned in the report, but should probably not be ruled out until concrete plans are revealed.
Originally, in the mid-2000's, Sullivan Square was intended to be comprised of mixed-use space that would encompass apartments boasting nearly 1,400 residential units; 45,000 square feet of retail space; and 272,000 square feet of office space. However, the recession, combined with a series of lawsuits, resulted in the project never getting off the ground.
New construction of residential high-rise buildings are rare in the Las Vegas region in recent years, due in part to how expensive it is to both build and maintain such a facility. But the developers in this case must see the positive economic growth in Southern Nevada recently as a sign that high-rises may once again present the potential for profit in the years to come.
Photo via Loopnet & The Hoffman Company: Sunset & Durango; Las Vegas, NV 89113 · 14.89 AC · Land For Sale http://www.hoffmanland.com
Shelter Realty is a Real Estate and Property Management Company specializing in the areas of Henderson, Las Vegas and North Las Vegas, NV. Feel free to give us a call at 702.376.7379 so we can answer any questions you may have.