Blackstone Group Considering Sale of Las Vegas Cosmopolitan Hotel and Casino; Could Fetch $4 Billion, Analysts Say
Blackstone Group Considering Sale of Las Vegas Cosmopolitan Hotel and Casino; Could Fetch $4 Billion, Analysts Say
LAS VEGAS – The Blackstone Group L.P. – an American multinational private equity, alternative asset management and financial services firm based in New York City – is considering putting one of their high-profile Las Vegas, Nevada assets on the open market for a potentially huge payday, according to reports.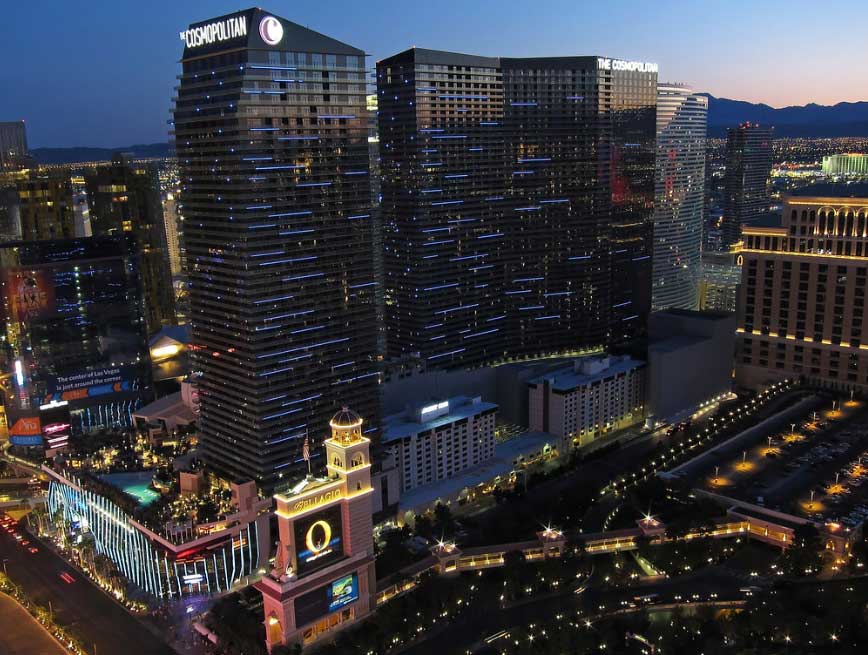 Blackstone has hired investment banks Deutsche Bank AG and PJT Partners Inc. to investigate the possibility of selling the Cosmopolitan of Las Vegas, a 3,000-room luxury resort casino and hotel located on the famed Las Vegas Strip. According to reports, a Vegas-based casino-resort has the potential to sell under the right conditions for as much as 13 times the amount of revenue that it takes in; in the case of the Cosmopolitan, this could amount to a sale price as high as $4 billion, analysts say.
The Cosmopolitan would represent the first resort of its type on the Las Vegas Strip to be put up for sale in over 10 years, if Blackstone decides to follow through with it. Reports indicate that Wynn Resorts Ltd. and MGM Resorts International may have eyes on the property if it does indeed become available, although this has not been confirmed as of now. Local media have reached out to both groups but have yet to receive responses from either one on the matter.
The Cosmopolitan opened on December 15, 2010, and is located just south of the Bellagio on the west side of Las Vegas Boulevard. It consists of two high-rise towers – the Boulevard Tower and the Chelsea Tower – both of which are 184 meters (603 ft) tall. The $3.9 billion project features 3,027 rooms, a 110,000 square foot casino, 300,000 square feet of retail and restaurant space, a spa and fitness facility, a 3,200-seat theater, and meeting and convention space.
The Cosmopolitan was purchased for $1.73 billion by Blackstone in 2014 and invested an additional $500 million into the property in order to build large luxury suites intended to house high-profile gambling guests, as well as renovating existing rooms and adding new bars and restaurants to the resort. The Cosmopolitan currently is one of the priciest hotels on the Las Vegas Strip, with an average stay running over $300 a day.
Blackstone – which owns numerous properties, in Vegas and worldwide – was founded in 1985 as a mergers and acquisitions boutique by Peter G. Peterson and Stephen A. Schwarzman, who had previously worked together at Lehman Brothers; since then, Blackstone has become the world's largest private equity investment firm. As of 2019, the company's total assets under management were approximately $470 billion dollars. In April 2019, Blackstone disclosed it was converting to a corporation from a publicly traded partnership.
Shelter Realty is a Real Estate and Property Management Company specializing in the areas of Henderson, Las Vegas and North Las Vegas, NV. Feel free to give us a call at 702.376.7379 so we can answer any questions you may have.