Las Vegas Second in Appreciation in United States, House Prices Up Over 16.1 Percent from 2017
LAS VEGAS, NV – According to recent reports, the real estate market in Las Vegas is still on an upwards trajectory with little sign of slowing down; substantial year-to-year gains in terms of the value of properties in Southern Nevada are eclipsing almost every other region in the United States, speaking volumes to the fact that Vegas is a hotbed of housing activity in 2018.
Overall, real estate in the United States is skyrocketing, and even in such an environment Las Vegas is standing out; currently, it is ranked number two nationally in property value appreciation, up 6.3 percent in February 2018 from the same period of time one year prior. This is equal to a previous jump in December, which represented the biggest gain in home appreciation in Vegas in almost three years, making it second only to Seattle, Washington. Coming in third is San Francisco, California.
The gains in home values in Las Vegas can be attributed to a number of factors, with experts mainly citing the improving economy resulting in steadily-increasing jobs – which, in turn, is attracting new transplants to the area – as well as an increased amount of young millennials leaving home and getting their own places. And, of course, there is that old adage that supply and demand sets the price; March 2018 saw an increase in home sales over February, although that overall number was lower than a year ago simply due to the fact that there currently aren't enough properties on the market to satisfy the growing need.
As far as the prices of homes overall, April recorded a whopping 2017-2018 year-to-year increase in April of 16.1 percent, with the median sales price of a single-family home coming in at $289,000; this represents a 3.2 percent jump from March. As for actual sales, 2,878 homes were sold in April, which was a decrease of 8/7 percent from the month prior but still an uptick of approximately 0.4 percent from last year. As for inventory, 3,816 single-family homes in Las Vegas were up for sale but were without offers in April, representing a drop of 0.5 percent from March, and 24,9 percent from the same time one year ago.
But while this is all good news for dabblers and investors in the real estate market, it spells potential issues for actual home buyers, as the gains to home values reported for February signify that they are rising at a level that is currently greater than respective gains in terms of both inflation and the average pay level for the region. While this obviously doesn't make buying property for the average family impossible, if appreciation continues at this level for the foreseeable future buyers may have to make more frugal choices in terms of lodging. For example, due to increasing mortgage rates, more and more people in the United States are opting to renovate their homes as opposed to selling them, and less families are selling their properties because – especially in areas like Las Vegas – the supply currently hasn't caught up to demand, yet, although many developers are doing their best to try.
If you are considering relocating in or around the Las Vegas area, which clearly is experiencing huge growth and a booming job market,  give us a call at 702.376.7379 so we can answer any real estate and home relocation questions you may have.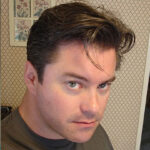 Christopher Boyle is an investigative journalist for independent news and media organizations in the United States. Christopher helps keep a keen-eye on what's happening in the Las Vegas Nevada community on behalf of Shelter Realty Inc.