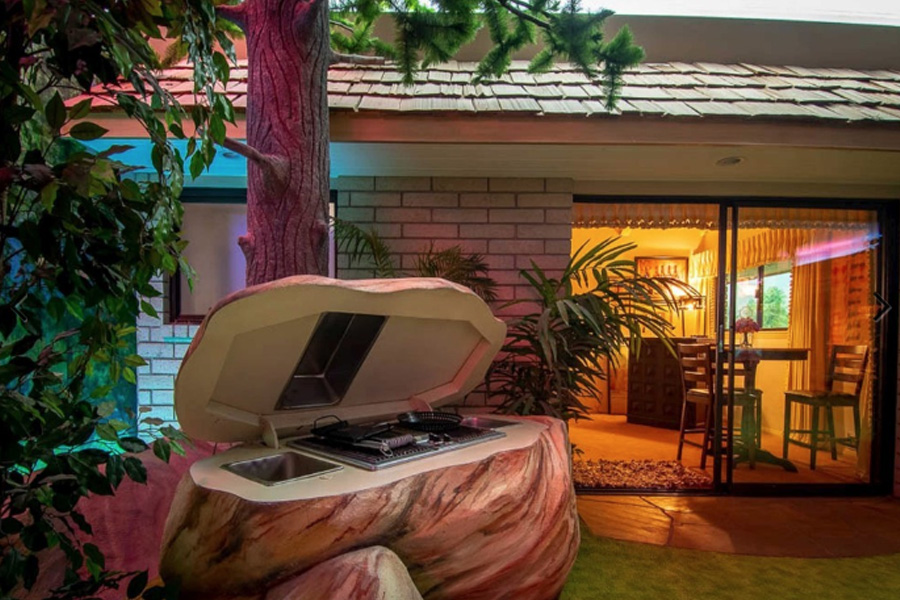 LAS VEGAS, NV – Las Vegas' infamous "Underground House" – a "doomsday bunker" built 26 feet underground in 1978 by Avon cosmetics executive and subterranean living enthusiast Jerry Henderson – is still languishing on the market since it was first listed in 2019 for $18 million. However, the asking price has recently been lowered due to the lack of takers, with the seller now asking just $5.9 million for the one-of-a-kind dwelling. 
The 5,000 square-foot underground house originally cost $10 million to build, and is situated within a 15,000 square-foot steel-reinforced concrete bunker. Despite its intended purpose being to survive a potential nuclear holocaust, the house – which retains its authentic 1970's design aesthetic to this day – features numerous amenities, including a pool, terraces, a waterfall, a generator, and a 1,000-gallon water tank. 
3970 SPENCER STREET, LAS VEGAS – $5,900,000.00
Included in the deal is also a 2,300 square-foot, two-bedroom house located above-ground that serves as a gateway to entering the underground house. The property's current owners – The Stasis Foundation, which reportedly advocates for cryogenics, or the practice of freezing humans for scientific purposes – are represented in the sale by Stephan LaForge of Berkshire Hathaway.
LaForge said that the recent price reduction "reflects the range of offers the property has received since being listed." However, he noted that it would cost up to eight times its current asking price to build a comparable property. 
Previously, the property sold in 1990 for $1.3 million after Henderson passed away, and again in 2005 for $2 million. The Stasis Foundation purchased it in 2014 for $1,150,000.
The underground house has two bedrooms and three baths, a vintage 1970's-style kitchen, a large living room with beamed ceilings, a stone fireplace and a theater. Natural lighting patterns are automatically maintained to simulate the passage of daytime into night, and a faux "backyard" is accessible via sliding glass doors and features artificial grass, trees, a swimming pool, a fountain, BBQ, and small cottage. 
Click here to view full listing details for 3970 Spencer Street, Las Vegas
Shelter Realty is a Real Estate and Property Management Company specializing in the areas of Henderson, Las Vegas and North Las Vegas, NV. Feel free to give us a call at 702.376.7379 so we can answer any questions you may have.